Welcome
Check for advance tickets only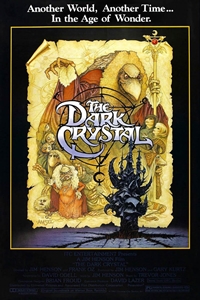 The Dark Crystal
Opens 12/17/1982
Rated PG
Hace mil a˝os en un distante planeta la raza llamada los Urskeks rompiˇ un pedazo de un cristal mßgico que les permitiˇ controlar el mundo y trajo una Úpoca caˇtica. Ahora una huÚrfana llamada Jen parte en una aventura para recuperar el trozo de cristal que apodera a los Urskeks para restaurar el balance en el universo.
CAN'T FIND THE SHOW TIME YOU ARE LOOKING FOR?
We post new schedules on Tuesday evenings for Friday through the following Thursday.
In some cases, advance tickets for future releases will be posted by date.
Closed Captioning and Descriptive Video devices available by request at theater box office.
Buscar Horarios y Comprar Entradas
*Click on time to purchase tickets