Welcome
Check for advance tickets only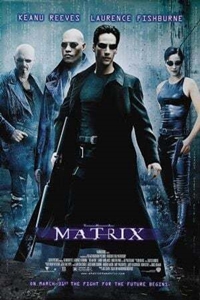 The Matrix
Opens 3/31/1999
Rated R for sci-fi violence and brief language
La premiada 'Trilogía Matrix' de los hermanos Wachowskies - incluye The Matrix, The Matrix Reloaded, The Matrix Revolutions. La trilogía comienza con un hacker que aprende de los rebeldes misteriosos acerca de la verdadera naturaleza de su realidad y de su papel en la guerra contra sus controladores - y termina con la ciudad humana de Sión defendiéndose contra la invasión masiva de las máquinas, mientras Neo lucha para poner fin a la guerra. ANIMATRIX: de los creadores de la trilogía The Matrix, se trata de una innovadora colección de nueve cortometrajes de los siete directores de animé más importantes del mundo.
CAN'T FIND THE SHOW TIME YOU ARE LOOKING FOR?
We post new schedules on Tuesday evenings for Friday through the following Thursday.
In some cases, advance tickets for future releases will be posted by date.
Closed Captioning and Descriptive Video devices available by request at theater box office.
Buscar Horarios y Comprar Entradas
*Click on time to purchase tickets