Welcome
Check for advance tickets only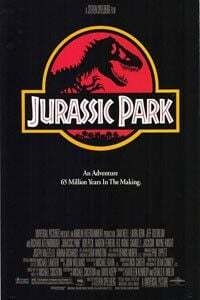 Jurassic Park
Opens 6/11/1993
Rated PG-13 for intense science fiction terror
"John Hammond, magnate propietario de la empresa multinacional en bioingenierÝa InGen, ha so˝ado toda su vida con construir el mayor parque de atracciones del mundo. Una isla en Costa Rica donde habiten las criaturas mßs espectaculares que han pisado la Tierra: los dinosaurios. Pese a la extinciˇn de estos reptiles, InGen ha logrado clonar diversas especies mediante la manipulaciˇn de segmentos de ADN de la propia sangre de dinosaurio, encontrada en mosquitos fosilizados en ßmbar.
CAN'T FIND THE SHOW TIME YOU ARE LOOKING FOR?
We post new schedules on Tuesday evenings for Friday through the following Thursday.
In some cases, advance tickets for future releases will be posted by date.
Closed Captioning and Descriptive Video devices available by request at theater box office.
Buscar Horarios y Comprar Entradas
*Click on time to purchase tickets