Welcome
Check for advance tickets only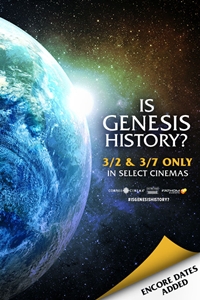 Is Genesis History?
Opens 3/2/2017
Rated NR
Back by popular demand, Fathom Events is excited to bring two encore presentations of the enlightening documentary, Is Genesis History?, to cinemas nationwide on Thursday, March 2 and Tuesday, March 7. Dr. Del Tackett treks the globe to meet with top scientists and scholars and asks the questions surrounding the most controversial book of the Bible that everyone is curious about: Was everything created in six days? Did we evolve from apes? Were Adam and Eve real? Was there a global flood? What happened to the dinosaurs? Was there a tower of Babel? This first-of-its-kind documentary also features a special panel discussion on the importance of Genesis to our faith today.


Buscar Horarios y Comprar Entradas
Closed Captioning and Descriptive Video devices available by request at theater box office.
*Click on time to purchase tickets