Welcome
Check for advance tickets only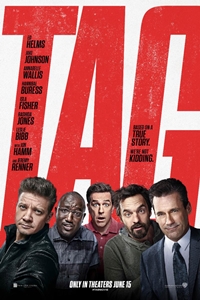 Tag
Opens 6/15/2018
Rated R for language throughout, crude sexual content, drug use and brief nudity
Cada año, durante un mes, cinco amigos muy competitivos se juntan para un juego de ¡Te Atrapé!, sin tabúes que han jugado desde la primaria. Arriesgan sus vidas, sus trabajos y sus relaciones, para derrotarse uno al otro con el grito de guerra: "¡Te atrapé!".

Este año, el juego coincide con la boda del único jugador invicto, lo que finalmente promete convertirlo en objeto fácil de atrapar. Pero, él sabe que ellos vienen por él... y está preparado. La película se basa en una historia real y muestra hasta dónde algunas personas están dispuestas a ir para ganar.
CAN'T FIND THE SHOW TIME YOU ARE LOOKING FOR?
We post new schedules on Tuesday evenings for Friday through the following Thursday.
In some cases, advance tickets for future releases will be posted by date.
Closed Captioning and Descriptive Video devices available by request at theater box office.
Buscar Horarios y Comprar Entradas
*Click on time to purchase tickets