Welcome
Check for advance tickets only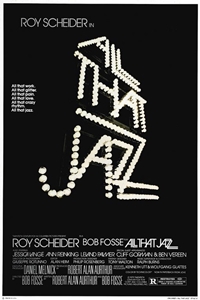 All That Jazz
Opens
Rated R
"Semi-autobiográfica de Bob Fosse, una película que refleja el mundo del espectáculo desprovisto de glamour o ilusiones. Joe Gideon (Roy Scheider) se encuentra en lo más alto, uno de los directores más exitosos y coreógrafos en el teatro musical. Pero él puede sentir que su mundo se está derrumbando lentamente a su alrededor: su obsesión por el trabajo casi ha destruido su vida personal, y sólo sus botellas de píldoras lo mantienen en marcha.
CAN'T FIND THE SHOW TIME YOU ARE LOOKING FOR?
We post new schedules on Tuesday evenings for Friday through the following Thursday.
In some cases, advance tickets for future releases will be posted by date.
Closed Captioning and Descriptive Video devices available by request at theater box office.
Buscar Horarios y Comprar Entradas
*Click on time to purchase tickets