Welcome
Check for advance tickets only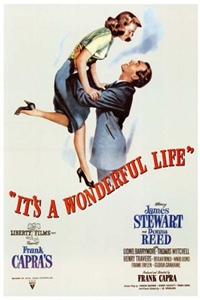 It's a Wonderful Life (1946)
Opens 12/18/2018
Rated PG for thematic elements, smoking and some violence
Es nochebuena y George Bailey esta contemplando suicidarse. Todo el pueblo de Bedford Falls reza por él y los ángeles escuchan. Mandan a Clarence, su ángel guardián, para enseñarle como su pueblo hubiese sido si no hubiera nacido. George descubrirá cuán importante ha sido su vida de sacrificio por la gente de su pueblo.
CAN'T FIND THE SHOW TIME YOU ARE LOOKING FOR?
We post new schedules on Tuesday evenings for Friday through the following Thursday.
In some cases, advance tickets for future releases will be posted by date.
Closed Captioning and Descriptive Video devices available by request at theater box office.
Buscar Horarios y Comprar Entradas
*Click on time to purchase tickets