Welcome
Check for advance tickets only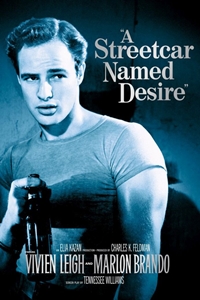 A Streetcar Named Desire (1951)
Opens 9/18/1951
Rated PG
"DespuÚs de una larga separaciˇn, Blanche Dubois (Vivien Leigh, Lo que el viento se llevˇ) decide comenzar una nueva junto a su hermana (Stella Kim Hunter), una mujer casada que vive en Nueva Orleans. Stella vive con su marido, Stanley (Marlon Brando, El Padrino), un obrero de origen polaco que la menosprecia y trata sin cari˝o. AllÝ se presenta Blanche, que pronto se gana la antipatÝa de su cu˝ado. Stanley no tiene mucho aprecio a las maneras distinguidas de Blanche y hace por averiguar verdadero pasado de su cu˝ada.
CAN'T FIND THE SHOW TIME YOU ARE LOOKING FOR?
We post new schedules on Tuesday evenings for Friday through the following Thursday.
In some cases, advance tickets for future releases will be posted by date.
Closed Captioning and Descriptive Video devices available by request at theater box office.
Buscar Horarios y Comprar Entradas
*Click on time to purchase tickets