Welcome
Check for advance tickets only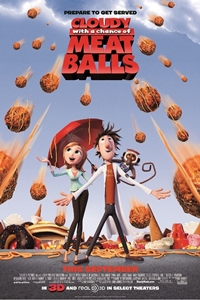 Cloudy With a Chance of Meatballs
Opens 9/18/2009
Rated PG for brief mild language
Columbia Pictures y Sony Pictures Animation presentan Cloudy with a Chance of Meatballs una pelÝcula animada que serß el acontecimiento mßs delicioso desde que se unieron la pasta de espagueti y el queso. Inspirada en un entra˝able libro para ni˝os la pelÝcula es sobre un pueblo donde cae comida del cielo como lluvia.
CAN'T FIND THE SHOW TIME YOU ARE LOOKING FOR?
We post new schedules on Tuesday evenings for Friday through the following Thursday.
In some cases, advance tickets for future releases will be posted by date.
Closed Captioning and Descriptive Video devices available by request at theater box office.
Buscar Horarios y Comprar Entradas
*Click on time to purchase tickets