Welcome
Check for advance tickets only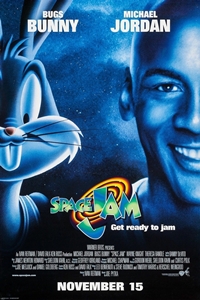 Space Jam
Opens 11/15/1996
Rated PG
"El Sr. Swackhammer, un tiránico alien dueño del parque de atracciones extraterrestre ""Montaña Tontolandia"" busca novedades para su parque. Por eso manda a un grupo de sirvientes, los Nerdlucks, un grupo de pequeños extraterrestres, para secuestrar a los Looney Tunes y convertirlos en la mayor atracción de todas. Bugs Bunny y sus amigos les han retado a un partido de baloncesto, de manera que si los Looney ganan se quedarán, pero si pierden irán para siempre al parque de atracciones. Dado el reducido tamaño de los extraterrestres el partido parece ganado, pero los Nerdlucks tienen un arma secreta: son capaces de apoderarse de las cualidades de los mejores jugadores de baloncesto de la NBA, convirtiéndose en supermonstruos. Ahora los Looney necesitan ayuda para ganar, por lo que recurren al mejor jugador de baloncesto del universo: Michael Jordan. Pero Jordan acaba de retirarse para dedicarse al beisbol y tendrán que convencerlo para que juegue en su equipo. ¿Lograrán ganar el partido?
CAN'T FIND THE SHOW TIME YOU ARE LOOKING FOR?
We post new schedules on Tuesday evenings for Friday through the following Thursday.
In some cases, advance tickets for future releases will be posted by date.
Closed Captioning and Descriptive Video devices available by request at theater box office.
Buscar Horarios y Comprar Entradas
*Click on time to purchase tickets