Check for advance tickets only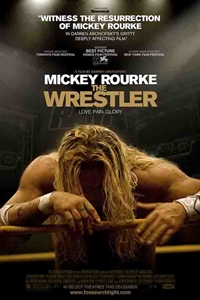 The Wrestler
Opens 12/17/2008
Rated R for violence
Randy "The Ram" Robinson era un luchador superestrella en la década de los 80, pero ahora está luchando en cuadriláteros de tercera categoría. Los golpes que su cuerpo ha recibido a lo largo de su carrera finalmente le empiezan a pasar factura, decide que necesita cambiar su vida. Intenta reconectar con su hija y superar su soledad con una bailarina llamada Cassidy.
CAN'T FIND THE SHOW TIME YOU ARE LOOKING FOR?
We post new schedules on Tuesday evenings for Friday through the following Thursday.
In some cases, advance tickets for future releases will be posted by date.
Closed Captioning and Descriptive Video devices available by request at theater box office.
Buscar Horarios y Comprar Entradas
*Click on time to purchase tickets