Welcome
Check for advance tickets only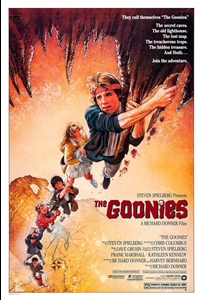 The Goonies
Opens 6/7/1985
Rated PG
'Los Goonies' una pandilla de jóvenes pasan trístemente su última mañana juntos, tratando de despedirse antes de que una empresa de demolición destruya todo el barrio. En una buhardilla encuentran un mapa de un pirata del siglo XVII y se ponen en marcha para buscar un tesoro lo bastante valioso como para salvar sus casas. Los jóvenes empiezan a seguir el mapa (y sus sueños...) y penetran en un fabuloso mundo subterráneo lleno de cavernas, de esqueletos y de trampas.
CAN'T FIND THE SHOW TIME YOU ARE LOOKING FOR?
We post new schedules on Tuesday evenings for Friday through the following Thursday.
In some cases, advance tickets for future releases will be posted by date.
Closed Captioning and Descriptive Video devices available by request at theater box office.
Buscar Horarios y Comprar Entradas
*Click on time to purchase tickets