Welcome
Check for advance tickets only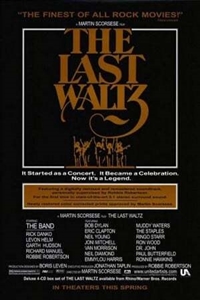 The Last Waltz
Opens 4/26/1978
Rated NR
"Documental sobre el último concierto de la banda de rock norteamericana The Band en noviembre de 1976 en el gran escenario de Winterland Ballroom de San Francisco. El evento contó con la participación de diversos artistas de los años sesenta y setenta, incluyendo a Bob Dylan, mentor del grupo, y otras figuras míticas del rock de las últimas décadas como Neil Young, Muddy Waters, Paul Butterfield, Joni Mitchell o Eric Clapton. Martin Scorsese fue el encargado de ponerse al mando de la dirección, elaborando un documental que intercala imágenes del concierto con entrevistas que el propio director estadounidense formuló a los diferentes artistas, en las que rememoraban sus mejores momentos, anécdotas y aficiones musicales.
CAN'T FIND THE SHOW TIME YOU ARE LOOKING FOR?
We post new schedules on Tuesday evenings for Friday through the following Thursday.
In some cases, advance tickets for future releases will be posted by date.
Closed Captioning and Descriptive Video devices available by request at theater box office.
Buscar Horarios y Comprar Entradas
*Click on time to purchase tickets